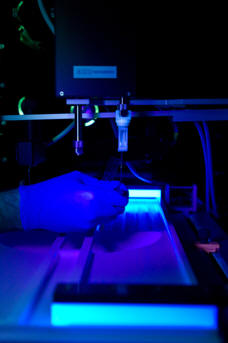 Research Thrusts

Engineering Education Innovation
As the world continues to change with globalization and technological advances so must engineering education p...




Advanced Power System
In the face of an impending energy crisis, the Advanced Power Systems research center is exploring alternative...




Space Systems
The Space Systems Research group is creating innovative electric propulsion systems to make space travel more ...




Mechanics of Multi-scale Materials
The Mechanics of Multi-scale Materials research group uncovers the relationships of structures across the full...




Multi-scale Sensors and Systems
The Multi-scale Sensors and Systems Research Group specializes in the design, fabrication, integration, and te...




Sustainable Manufacturing and Design
Many of the campus research efforts on sustainability are coordinated by the Sustainable Futures Institute (SF...


Research Publications
Proteoglycan Breakdown of Meniscal Explants Following Dynamic Compression Using a Novel Bioreactor
Publication Date:
Nov 2006
Authors:

Zielinska, B.
McHenry, J.A.
Published In:
Annals of Biomedical Engineering, Vol. 34, No. 11, pp.1758-1766
[ BACK TO PUBLICATIONS ]