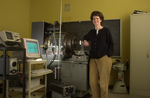 Research Thrusts

Engineering Education Innovation
As the world continues to change with globalization and technological advances so must engineering education p...




Advanced Power System
In the face of an impending energy crisis, the Advanced Power Systems research center is exploring alternative...




Space Systems
The Space Systems Research group is creating innovative electric propulsion systems to make space travel more ...




Mechanics of Multi-scale Materials
The Mechanics of Multi-scale Materials research group uncovers the relationships of structures across the full...




Multi-scale Sensors and Systems
The Multi-scale Sensors and Systems Research Group specializes in the design, fabrication, integration, and te...




Sustainable Manufacturing and Design
Many of the campus research efforts on sustainability are coordinated by the Sustainable Futures Institute (SF...


Research Projects
Optimizing Chemo-Mechanical Structure for MEMS Chemical Vapor Sensor Arrays
Project Date:
2007-2010
Web Site
Michele Miller
Primary Investigator

Gordon Parker
Co-Primary Investigator

H. Liu, Dept of Chemistry MTU
Co-Primary Investigator

S. Green, Dept of Chemistry, MTU
Co-Primary Investigator

P. Bergstrom, Dept of Electrical Engineering, MTU
Co-Primary Investigator


Sponsor:
Michigan Economic Development Corporation
A number of important vapor sensor applications (chemical warfare agent detection, atmospheric monitoring)can only be realized with huge networks of sensors that are easily tailored to specific functions and are expensive to produce. This project combines three-dimensional chemical probes with simultaneous chemo-mechanical design optimization techniques and MEMS fabrication methods.

The platform for the research investigation is a resonant mass sensor for detecting nerve gases. The sensor consists of an array of elements, each containing an electrostatically actuated cantilever with a chemical probe layer on top. To increase the sensitivity of the chemical probe, nanospheres are embedded in a polymer network to create a porous three-dimensional structure. The nanosphere structure can host a very large number of chemical binding sites. The shape of the actuator as well as the thickness and porosity of the polymer/nanosphere network can be adjusted to achieve desired performance criteria. For this project the specific optimization goals are high sensitivity, high selectivity, low poer consumption, and reliable manufacturability.

A system model that includes structural behavior, electrostatic effects, damping, gas diffusion, and chemical reaction rates will be developed. The project will link commercial codes that perform finite element and boundary element analysis with newly developed topology optimization and visualization code. The optimization strategy emoploys a genetic algorithm method that facilitates user interaction in the design process.

Meso-scale and micro-scale prototype sensors will be fabricated using a combination of in-house and multi-user MEMS processes. New techniques for the rapid deposition of the chemical probe layer onto foundry produced MEMD structures will be investigated. Testing will evaluate the benefit of the integrated chemo-mechanical design optimization process.

The project will advance the state-of-the-art in the following areas: 1) multi-domain design methods and the quantification of the benefits and limitations of this approach, 2) methodologies for creating porous nanosphere/polymer networks to target specific vapors, 3) knowledge about fabrication methods that can interface with existing microelectronic fabrication technologies to create chemo-mechanical micro-devices. While micro-arrays of resonant mass sensors targeting nerve gases were chosen as a case study to focus the research effort, the computational and fabrication tools that are created can be applied to a wide variety of chemo-mechanical or other multi-domain design problems.

[ BACK TO PROJECTS ]