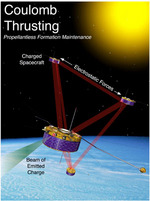 Research Thrusts

Engineering Education Innovation
As the world continues to change with globalization and technological advances so must engineering education p...




Advanced Power System
In the face of an impending energy crisis, the Advanced Power Systems research center is exploring alternative...




Space Systems
The Space Systems Research group is creating innovative electric propulsion systems to make space travel more ...




Mechanics of Multi-scale Materials
The Mechanics of Multi-scale Materials research group uncovers the relationships of structures across the full...




Multi-scale Sensors and Systems
The Multi-scale Sensors and Systems Research Group specializes in the design, fabrication, integration, and te...




Sustainable Manufacturing and Design
Many of the campus research efforts on sustainability are coordinated by the Sustainable Futures Institute (SF...


Research Projects
Spacecraft Formation Flying using Inter-vehicle Coulomb Forces
Project Date:
2001-2004
Sponsor:
Universities Space Research Association
Spacecraft clusters, or formations, are an emerging trend in space mission design. Proposed concepts utilize swarms of small micro- or nanosatellites acting in collaboration. For many applications, the vehicles within the swarm must maintain accurate position with respect to others in the group. To achieve relative position control, some type of formation-keeping propulsion is required on each vehicle. While the propulsive forces necessary are small (10's to 100's of microNewtons), precise application and control of these forces is difficult in practice. Also, continuous application of formation-keeping forces would quickly exhaust the propellant supply of traditional micro-rocket engines. In 2001, the Isp Lab was the first to propose the use of inter-vehicle Coulomb forces for use in spacecraft formation control. This concept relies on electrically charging spacecraft by expelling charged beams. The vehicles then experience electrostatic attraction or repulsion from the other vehicles in the swarm. The entire formation exhibits coupled, collective motion that can be exploited to maintain relative position. Since Coulomb propulsion requires no fuel, the concept can essentially maintain a formation for an indefinite period of time. The power required to affect Coulomb propulsion has been shown to be on the order of milli-Watts up to a few Watts. The required on-board mass of the system has likely been shown to be very small. Research continues on charging mechanisms, charge sensing/servoing techniques, spacecraft/plasma interaction, and distributed control.

[ BACK TO PROJECTS ]