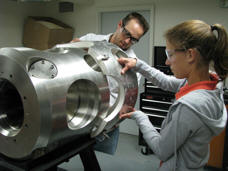 Research Thrusts

Engineering Education Innovation
As the world continues to change with globalization and technological advances so must engineering education p...




Advanced Power System
In the face of an impending energy crisis, the Advanced Power Systems research center is exploring alternative...




Space Systems
The Space Systems Research group is creating innovative electric propulsion systems to make space travel more ...




Mechanics of Multi-scale Materials
The Mechanics of Multi-scale Materials research group uncovers the relationships of structures across the full...




Multi-scale Sensors and Systems
The Multi-scale Sensors and Systems Research Group specializes in the design, fabrication, integration, and te...




Sustainable Manufacturing and Design
Many of the campus research efforts on sustainability are coordinated by the Sustainable Futures Institute (SF...


Research News
Engineering Society of Detroit Honors Jeff Naber
Jeff Naber, associate professor of mechanical engineering-engineering mechanics and director of the Advanced Power Systems Research Center, is one of three engineers honored with a 2010 distinguished service award by the Engineering Society of Detroit (ESD). The award was presented at the ESD's annual dinner in Detroit June 23.

Naber was recognized for "loyal, faithful service," said Darlene Trudell, executive vice president, "and for this we are truly grateful."

Naber has led a successful collaboration between Michigan Tech and the ESD to teach a course in Detroit in advanced hybrid electric propulsion technology for graduate and displaced engineers.
[ BACK TO NEWS ]