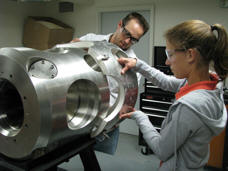 Research Thrusts

Engineering Education Innovation
As the world continues to change with globalization and technological advances so must engineering education p...




Advanced Power System
In the face of an impending energy crisis, the Advanced Power Systems research center is exploring alternative...




Space Systems
The Space Systems Research group is creating innovative electric propulsion systems to make space travel more ...




Mechanics of Multi-scale Materials
The Mechanics of Multi-scale Materials research group uncovers the relationships of structures across the full...




Multi-scale Sensors and Systems
The Multi-scale Sensors and Systems Research Group specializes in the design, fabrication, integration, and te...




Sustainable Manufacturing and Design
Many of the campus research efforts on sustainability are coordinated by the Sustainable Futures Institute (SF...


Research News
Jeffrey Naber Receives 2010 SAE Forest R. McFarland Award
Associate Professor Jeffrey Naber has been selected to receive the 2010 SAE Forest R. McFarland Award.

This award recognizes individuals for their outstanding contributions toward the work of the SAE Engineering Meetings Board (EMB) in the planning, development, and dissemination of technical information through technical meetings, conferences, and professional development programs or outstanding contributions to the EMB operations in facilitating or enhancing the interchanges of technical information.

The Award was established in 1979, this award is administered by the EMB and honors the late Forest R. McFarland who was himself an outstanding session organizer, a chairman of the Passenger Car Activity and a member of the EMB. Funding for this award is through a bequest by Mr. McFarland to SAE and consists of a framed certificate presented at the SAE World Congress.
[ BACK TO NEWS ]